Clearly my real name isn't Chao, but it's my nickname and I like being called it more. I like to draw and write. Now if you look at my stuff please tell me what you think and don't be afraid to hurt my feelings, I like it when people give me destructive criticism. Makes me feel like I'm worthy enough to improve!
This is my Ask Chao! Tumbler! Feel free to take a look and maybe ask something!
askchaoni.tumblr.com/
How is this not cute?

Click Me!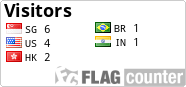 Request List:
ART - OC and Game Character -